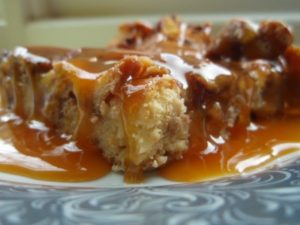 We know everyone loves cinnamon rolls, but why not kick it up a notch with cinnamon roll bread pudding?  This decadent dessert is the perfect end to any meal.  Thanks to A Southern Grace for creating this delicious recipe for us with our Duchess Cinnamon Rolls.
Cinnamon Roll-Me-Away-From-the-Table Bread Pudding with Spiced Caramel Sauce
Makes 9 servings
Ingredients:
Pudding:
Sauce:
1 cup brown sugar, tightly packed
1/2 cup half-and-half or heavy cream
4 tablespoons butter
Pinch salt
1 tablespoon vanilla extract
1/2 teaspoon cinnamon
1/4 teaspoon nutmeg
Directions:
To make the bread pudding, first grease an 8×8-inch pan.
Chop the cinnamon rolls into 1-inch pieces and scatter them into the prepared pan. Sprinkle the pecans on top.
In a bowl, whisk together the eggs, milk, vanilla, and salt and pour over the rolls and nuts.
Press the pieces of cinnamon roll down so that the batter can soak into each crevice. Let the mixture sit for an hour, pressing down occasionally.
When about 45 minutes have passed, preheat your oven to 350 degrees F, then after an hour, bake the pudding until no liquids appear when you press down gently in the middle and the edges are browned and puffy, about 50-60 minutes.
Remove from the oven and let cool on a wire rack.
To make the sauce, mix the brown sugar, half-and-half, butter, and salt in a saucepan over medium-low heat.
Cook while whisking gently for 5 to 7 minutes, until the mixture thickens.
Turn off the heat, add the vanilla and spices, and let cool slightly. You can serve it warm (it will be thin) or refrigerate until cold and spoonable.